Yanga and Mungo National Park
Tours of Yanga National Park and the World heritage listed Mungo National Park are available from Balranald. Contact the team at Balranald Visitor Centre for full details.

Phone: 1800 444 043
E-mail: infocentrestaff@balranald.nsw.gov.au
Website: www.visitbalranald.com.au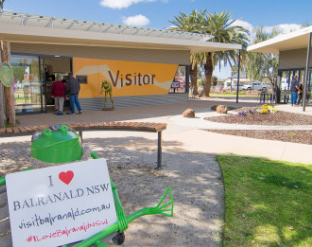 Yanga National Park (8kms from Balranald) forms part of the lower Murrumbidgee Floodplain, it includes 160 kms of Murrumbidgee River frontage, wetlands, lakes and breeding grounds for water birds. Yanga has a rich history as working pastoral, cropping and irrigation property for over 160 years. Wander around the historic Yanga Hometead and decorative garden situated on a headland overlooking Yanga Lake or join the guided tour held most morning at 10.30am. Visit the century old Yanga Woolshed, built to house 3000 sheep and provide work for 40 shearers. Stay and enjoy a picnic or BBQ surrounded by tranquil River Red Gums and try your luck fishing the picturesque Murrumbidgee River.

Balranalds Barking Frogs - Follow the trail of Frog Sculptures around town and enjoy our monument to the Southern Bell Frog - the frog that is known for its 'Barking' rather than 'Croaking' sound. This large handsome bright green frog has splotches of gold, bronze & black along its back and bright turquiose along its thighs
and changes colour rapidly when subject to heat or bright lights often turning dark brown during the day.
They live in semi-permanent wetlands in SE Australia and were once wide spread and abundant but are now highly endangered.

Art Gallery - located in Mayall Street in a 120year old Masonic Lodge. View the permanent artworks and pieces by local artists. Entry is free.